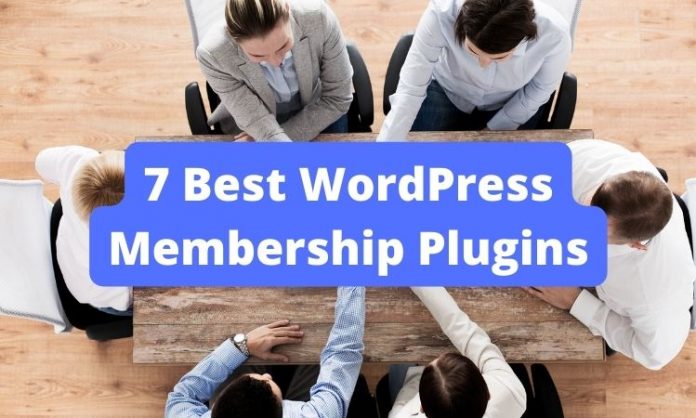 The popularity of WordPress has only grown in popularity over the years and as a result, many online businesses are getting their start with it. The all-in-one membership plugin is one of the best and easiest ways to manage your website memberships. I will look at some of the best WordPress membership plugins and compares them in terms of features, ease of use, and price.
One way that is becoming increasingly popular to help make money on the website is through membership options. This article will provide you with a list of the best WordPress membership plugins so that you can be sure that whatever option you choose, your users will be satisfied with what they get!
What is a Membership plugin?
It's a simple way to configure your WordPress website with a membership/ subscription facility.  An ability to do a lot of stuff regarding members on your website.
A simple WordPress membership plugin can add a functional subscription facility to your website. In this article, you'll get some idea about the best WordPress membership plugins available free or premium basis.
What Features To Look For When Selecting A Membership Plugin?
Before choosing the best WordPress membership plugins you have to consider 3 key points, they are:
Easy to Use: Whether you're skilled or not, the best WordPress membership plugin must be easy to use. Some of the best free WordPress membership plugins have a vast amount of complex functionality, you'll hardly use them. Others are quite light and offer only necessary functions.
Compatibility: Thousands of plugins are there to use, but you have to ensure the WordPress membership plugin doesn't conflict with your website's existing setup. If the WordPress membership plugin is compatible with your setup on the local server, you can install it on your live website.
Featured Services: The very common services of the membership websites are:
Membership management.
Email marketing.
Template & other designs.
Coupons & discount facility.
Live chat with the forum for support.
Live statistical feed to monitor whenever needed.
Capable of handling payments automatically.
When you'll have a clear idea about the membership type, it'll be easy to choose the best WordPress membership plugin.
7 Best WordPress Membership Plugins For 2021
MemberPress is one of the most popular and best WordPress membership plugins out there. It has thousands of features and is easy to fit with your website.  It's an all in all WordPress membership plugin, enough to transform your website into a fully featured membership website.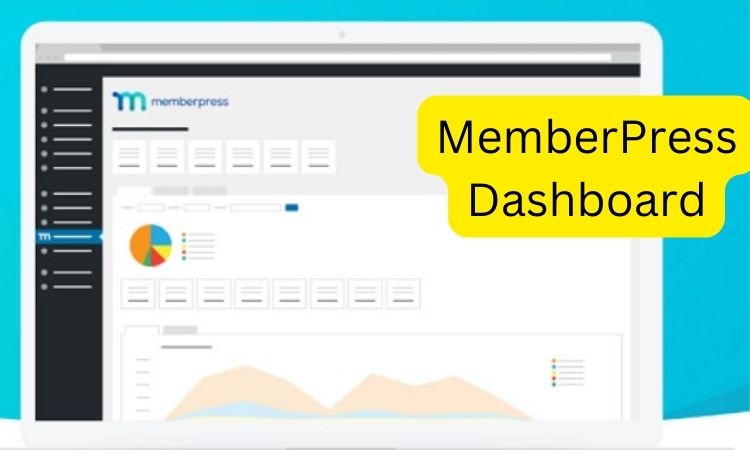 MemberPress WordPress membership plugin offers you a built-in email integration. So, it'd be very easy to communicate with members for you. Moreover, MemberPress handles payments all by itself, till you have a single product or service. It also offers you affiliate support, so that you can achieve your affiliate goal with less effort.
Pros of MemberPress:
Easy Setup: You'll find the MemberPress WordPress Membership plugin installation very easy. Besides this configuring Payment gateways, different classifications in membership, and service/product addition will become pretty easy.  
Integration: MemberPress allows you to integrate popular Email marketing services like Mailchimp, Aweber, and GetResponse. You can also create a forum by BuddyPress. Besides, this allows you to boost and organize business with BuddyPress.
Course Building:  MemberPress comes with addons to ready create, manage and sell courses online. A very fantastic tool drag & drop is there to configure your course plan along with styling, progress tracking, quiz, survey, and many more.
Restrictions:  You can filter users' contents, and control access pages/posts or categories. Moreover, you can also control members' feed/timeline based on membership classification.
Payment Option: MemberPress Pro provides you PayPal, Authorize.net, and Stripe payment gateway built-in.
Cons of MemberPress Pro:
Payment Bindings: MemberPress Pro supports limited payment gateways. So, you have to know that the built-in payment gateways support your country.
Limited Integration: Though MemberPress Pro supports many popular services to run your website efficiently, it still has some lacking. For that, you may have to use third-party services based on your need.
Basic Plan: MemberPress is definitely a professionally graded service tool. But there's no testing facility, so you can't buy a plan and then test it.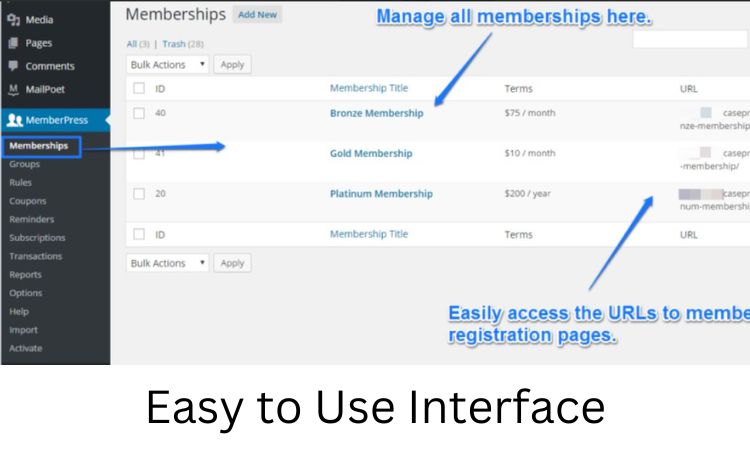 We think MemberPress is one of the easiest and best WordPress Membership plugins of 2021. As a beginner, it can be a great choice of work.
2. aMember Pro:
 aMember Pro is a feature-packed WordPress membership plugin that allows you to create any kind of membership you want. You can create a fully functional membership site, and manage the membership setups through it.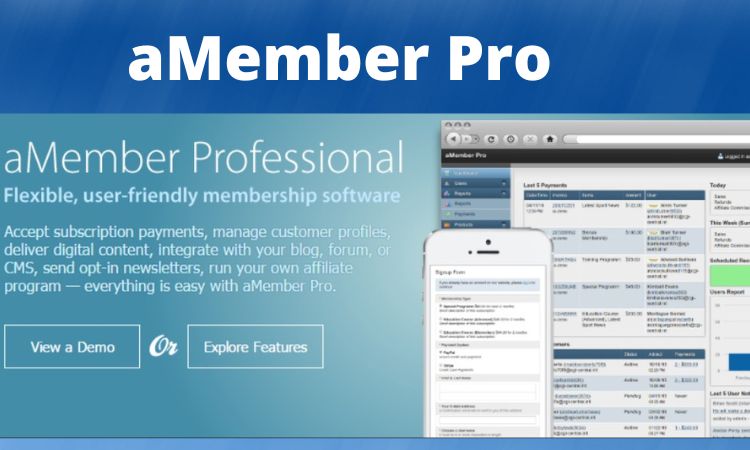 The very important feature of this plugin is, you can use the premium version of it in multiple sites without any further charge. This is a great chance to get an asset for a long period. 
Pros of aMember Pro:
Membership-class: WordPress Membership plugin aMember Pro gives you limitless opportunity to create and manage a membership website. So, you can configure the membership classes as you want.
Fully–featured: It comes with all the necessary features which vary in package plans. It's compatible with WordPress with great functional performance that can make your task so easy.
Language Support: Unlike other WordPress membership plugins aMemberPress Pro provides you translation support for about 6 major languages. It's a great feature that won't cost you extra.
Lifespan: Unlike other WordPress membership plugins aMember Pro comes to you with a great amount of life experience which is about 19 years. You can rely on such a long experience almost blindfolded.
Payment System: aMember Pro supports almost 200+ payment gateways, so you won't have to think about payment individually
Cons of aMember Pro:
Event-management: The WordPress membership plugin aMember Pro doesn't support event management. So you have to arrange the desired event manually or otherwise.
Donation: Unlike other WordPress membership sites, you can not have donation functionality through aMember Pro. You have to use a third-party service for that facility.
Documentation: The documentation of aMember Pro that the relevant authority created lacks numerous information. You will find very limited info there to support your work.
aMember Pro comes with various features that vary in the package and can be a great choice for a beginner like you, but first, you have to finalize what you want and what you can afford.
WordPress membership plugin S2Member is free but features a full package. It may bother your decision that some users don't find it user-friendly. Frankly, to say, S2Member is really a fully featured WordPress membership plugin but is kind of difficult for beginners.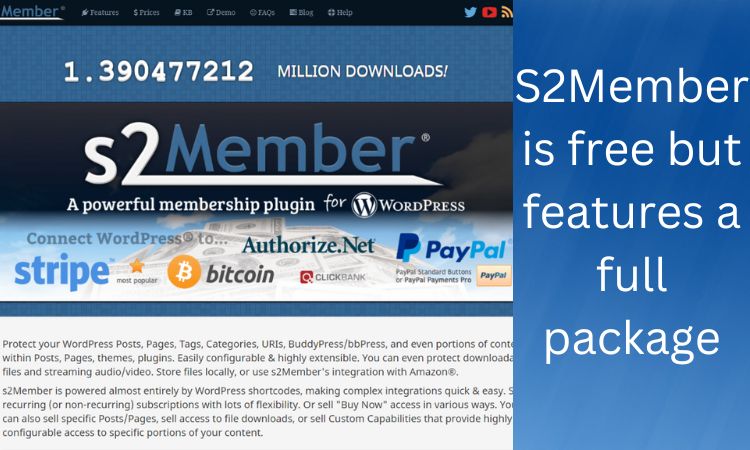 S2member provides you access to one of the most comprehensive WordPress membership plugins through its pro edition. 1-step registration with sign-out, User-role defining with unlimited membership level, etc. are some of its intelligent services.
Pros of S2Member:
Content Dripping:  To make sure your members get flawless, updated content from time to time S2Member provides you a great feature called content dripping. You can make your members pay for your content with the Pro version.
limitless Membership Classification: Normally you'll need only a few membership classes but the pro version of S2Member allows you to configure your membership classes along with access, features, etc.
Custom Feature Setup: S2member allows you to do various kinds of stuff with members. You can restrict their document access, and file download. Besides, you can customize the welcome screen, email template, etc. Simply to say, you can modify every single arrangement for your members as you want.
Payment Gateways: Free version of S2Member comes with integrated PayPal gateway support and it's very generous for you. Again the Pro version of S2Member allows you to use Stripe, Clickbank, and Authorize.net  along with Paypal Pro. Basically, these cover most of the common payment services on the web.
Extra Services: WordPress membership plugin S2Member packs with many other plugins like MailChimp, bbPress, BuddyPress, etc. Among them, BuddyPress handles social media promotion, MailChimp handles your email marketing, and bbPress controls your forum activity.
Cons of S2Member:
Complex Setup: As a beginner, setting up S2Member may seem complex to you. Frankly to say, at first glance, it surely seems complex to all.
Wizard: You'll find almost all the wizard setup quite hard to complete. It comes with a complex wizard setup.
Feature Limitation: Content dripping is surely a great feature, but only for Pro version users.  Free users won't be able to use it, not even at a limited scale.
S2Member is a powerful WordPress membership plugin with complete control over your website. It's quite hard for beginners and comes with 2 variations in the Pro version, one costs $89 and the other $189. But once you get used to it, you'll find it very handy for sure.
Teachable is a platform-building tool focused on online courses. Along with online courses, there are some other features like, forum discussion, membership website, LMS, analytics, report generating, email marketing, coupon, discount, etc.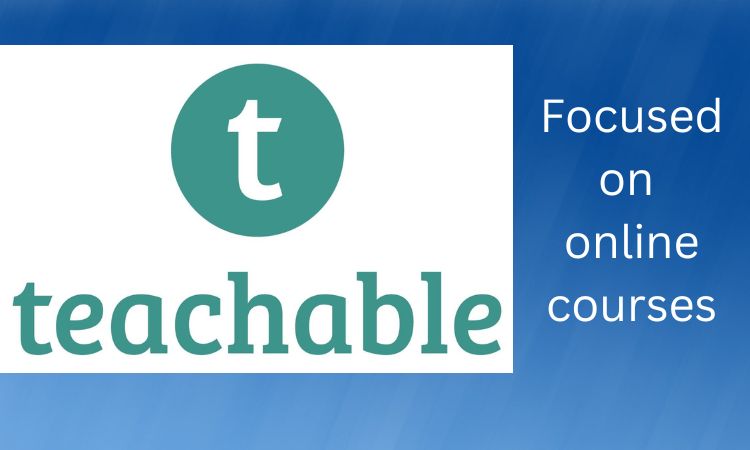 The key point of Teachable is, this builder is only for commercial online curricula. It comes with all the relevant tools needed for a complete build-up.   
Pros of Teachable:
Easy to use:  Teachable comes with an easy setup, any non-skilled person can install it within a short time. Using the built-in tools, you can easily create and upload course materials like video, text, pdf, audio podcast, etc.
Content Dripping: Content dripping is basically a feature that makes sure that the member gets the content based on progress/level. For instance, a student can not skip to chapter 3 from chapter 1, he/she must complete the chapters thoroughly.
Built-in Features: Online courses are basically shadows of regular class activities such as forum discussion, analyzing, quiz competition, tests, result publishing, certificate distribution, etc. Teachable comes with all of these features built-in, so you can continue the curriculum without any tension.
Cons of Teachable:
Plugin not Service: Basically teachable is a third-party service, you have to use it by adding a link or by a subdomain.
Expensive: It's really more expensive than other WordPress plugins. As it comes with all the necessary features, this makes it more suitable to be more expensive than others.
Autosave Work: Teachable doesn't save your works until you manually save them. So there remains a chance of losing semi-complete work that took you hours.
Hence, we have discussed Teachable along with some other plugins, you may start purchasing yet there are some plugins to discuss. 
LearnDash is a highly flexible and easy-to-use WordPress Membership Plugin. It's not a regular WordPress Membership Plugin, it's an LMS plugin which means Learning Management System. LearnDash is basically a platform-building tool oriented at online courses only.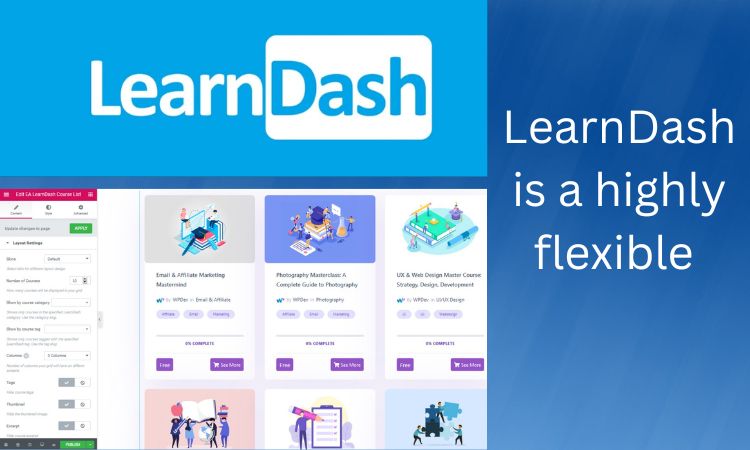 LearnDash comes with a large amount of integration work and a great Membership management process which makes it quite handy and resourceful to consider.
Pros of LearnDash:
Easy to Installation: Installing LearnDash is pretty much easy and adding content to it is even easier. It comes with advanced tools that enable you to organize your membership contents into various classes like groups, levels, forums, etc.
Content Restrictions: LearnDash gives you the ability to control the content on various groups individually or all together. So you can easily hide or restrict content to groups.
Marketing & Sales: This allows you to sell your online courses effortlessly. You create your course, share and promote them and at last sell them. It comes with an advanced module to manage your materials better than other WordPress Membership Plugins.
Course Creation: Creating online courses with LearnDash is quite charming and easy. It provides you great features like Focus Mode, Drag & Drop element builder, Advanced Quiz facility, Dynamic Content Delivery, etc.
Member's facility: LearnDash not only facilitates you as a user but also your members. It comes with various facilities like automated notification, Moderate certification and badging, Forum Discussion, Quizzes, Assignments, Leaderboard, Progress Status,  Course results, and many more features.
Integration: LearnDash comes with a vast amount of integration ability. You can deal with heavy stuff like Woocommerce, BuddyPress, Mailchimp, Slack, PayPal, Stripe, GamiPress, and many more with full confidence.
Cons of LearnDash:
Setup: It takes hours to labor to set it up initially.  It can be quite difficult for those who haven't managed any website before. So you have to keep a little bit more patience to complete the setup.
Feature Lacking: You may find LearnDash very convenient, and rich in features, and services but it still has some lacking issues. If you're not selling courses on your membership website, then you'll find several features of LearnDash worthless for your site.
Price: LearnDash may seem a little bit expensive for non-profit organizations or clients on a low budget. Again there is no free starter package to complete very basic tasks.
LearnDash with its huge addon and integration set can be the best WordPress Membership Plugin. Its enormous features will allow you to build a platform with a huge amount of audience engagement. 
MemberMouse is one of the most popular WordPress membership plugins that are rich in features. It can give you a clean checkout experience, a lower cancelation rate, a rise in sales, comprehensive reports from time to time, and many more.
Basically, MemberMouse is built for intermediate-level users. Beginners can use it too. Just a matter of time to get accustomed to it and you are ready to go.
Pros of MemberMouse:
Automated sale: MemberMouse can automate your membership sale. You'll get some extra time to focus on other sectors of your business, in the meantime, MemberMouse will take care of your sales.
Third-party Compatibility: Unlike other WordPress Membership plugins, MemberMouse offers you the ability to integrate third-party plugins when you need them. If you want to integrate some non-native services, you have to deal with compatibility issues.
Offer & Coupons: Generating various offers and coupons and delivering them to your members is quite a hassle. MemberMouse comes with a built-in service to save you time and keep you more focused on more important tasks.
Content Protection: MemberMouse provides your members' content built-in protection.  It is surely a great feature, and a plus point to catch more members, as security has become the talk of the table nowadays.
Reporting: MemberMouse offers you different types of reports of your website based on various factors. It'll be a time-saving step for your business so that you can work on other sectors that are less monitored and managed.
Cons of MemberMouse:
Limited Starter Plan: Like other WordPress membership plugins MemberMouse comes with a basic starter plan too. But there's a limitation of 14 days. After that period you'll have to upgrade to one of the 3 other packages.
Payment Gateway: MemberMouse comes with limited but different types of payment services. It supports Paypal and ClickBank. Stripe, Coinbase, Braintree, and Authorize. net. But you can not use it unless your region supports these services.
Status Update: Membermouse has an issue with updating the Expired or Cancelled status on its database.  Customers sometimes face denial when they have recently purchased a plan successfully.
Truly MemberMouse is a great piece of work. It comes with several great features that make your work easier, even though sometimes it completes some work automatically.
Nowadays WooCommerce is the most popular plugin solution for building an eCommerce website. It comes with some add-ons that come in a single package ready to go. WooCommerce membership is one of those add-ons.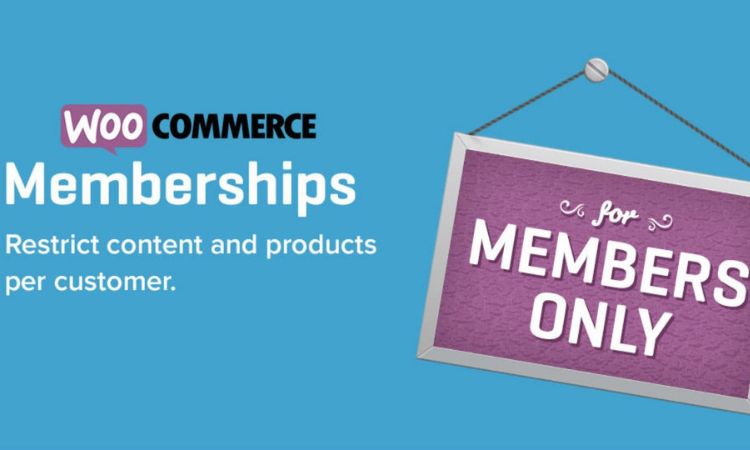 First, you have to create a buying club only for your eCommerce website. Your members have to sign up before purchasing any service. You can use the email addresses from the signup process for promotional activities like newsletters, waiver offers, etc.
Pros of WooCommerce membership:
Assigning Members:  You can define the access granting terms for the members so that you can create a product/service specific to the membership class or an individual member.
Content Access: You can build a strategic plan for your members along with membership tires so that you can control content access. It also allows you to schedule when a member can see your content.
Better Shipping Facility: Surely you want your members to repeat purchases again and again. And for that, you can offer them some facilities to encourage such as free shipping. You can offer members directly or by creating a condition to meet. 
Rewarding: Perks like rewarding encourage your members and also increases the new member acquisition rate. You can reward your customers with discounts for all kinds of product purchasing or a specific product category. 
Import/export of members: You have lots of tools to handle members. But what about import/exporting members? WooCommerce Membership allows you to import or export members' data in a CSV file.
Cons of Woocommerce membership:
Dependency: If you want to have some extra features like payment recurrence, then you'll need an extra plugin named Woocommerce Subscriptions.
Dashboard redirection: Woocommerce membership plugin doesn't come with the ability to redirect members to a specific dashboard, for which you'll have to do some extra work.
Compatibility: Sometimes it along with other addons of the mother plugin WooCommerce faces some compatibility issues with other plugins. So, you have to be careful when choosing a plugin, whether it fits your setup or not.
Frequently Asked Questions
1. How can you make money from a Membership Website?
A membership website is a great way to make money. You can sell products or services, or you can offer memberships that give them access to your site's content or services. You can also charge members for access to special features or content on your site. And you can collect fees for membership sites that offer premium services such as online courses, e-mail newsletters, or social networking tools. To start a membership website, you'll need a domain name and hosting account. You'll also need to create a web page and set up an e-commerce store. Once you have your site set up, you'll need to market it. You can do this through online ads, paid search engine marketing (PPC), or social media marketing. And you can also sell memberships directly from your website.
2. Does a Membership Plugin Make my Website Slow?
A membership plugin can add a lot of extra features and functionality to your WordPress website, but it can also increase the load time of your site. This is because the plugin will have to communicate with the WordPress database to gather information about your memberships, and this can slow down your website overall. If you're looking to speed up your WordPress site, then you should pick a good membership plugin. You can read my article on How to make your WordPress website faster so that the membership plugin can not affect the speed of your website.
3. Can I use a Membership Plugin for Free?
If you are looking for a WordPress membership plugin that can be used for free, then the WP-Members plugin is worth considering. This plugin allows you to create a membership site and manage memberships and subscriptions easily. You can also use the plugin to manage your contact forms, surveys, and other content areas. The plugin is free to download and use.
But if you are considering making money from your membership website, I will highly recommend a paid plugin. It's not because of the features, but also the support they provide. A free plugin never provides one-to-one support. Therefore, you will need a professional WordPress developer to assist you. but if you use a premium plugin, they will help you to run your website smoothly. Lastly, security is a big concern. You can never be 100% confident about the security of a free membership plugin but paid membership plugins offer tight security for the sake of their reputation and business.
Conclusion:
So far, we've tried our best to deliver you the maximum comparative info about the 7 best membership plugins. Here we have arranged some advantages along with disadvantages of those plugins individually. 
Until now you read all the articles in search of a specific plugin that we'll refer you to use. But Here's the twist, we are here not to refer but to acknowledge the good and bad side of the 7 best membership plugins in 2021.
We tried to deliver you the most recent and reliable information about those plugins so that you won't have to research further. Now all you have to do is to list out all the necessary services/ features that you need. Then read the article thoroughly and analyze it. This way you'll do a great analysis between the article and your needs and Bingo!!! you have reached your awaited decision.