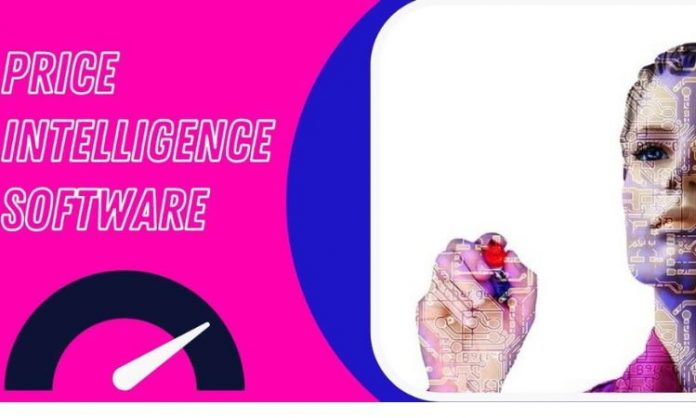 How vital a product's price is for you when you buy a product? Research tells us that it is the second most important parameter that most people consider before purchasing a product after its quality. So, if you are into any type of business, price intelligence is the most vital thing you should consider to prosper your business.
In today's competitive world, retailers, brands, suppliers, and shoppers, everyone is very much concerned about a product's price. And it's not difficult for a buyer to compare prices between two products.
As a result, brands change their products' prices regularly depending on buyers' behaviors. Is it so easy for a business to compare their products' prices and adjust manually? No. That's why price intelligence tools are introduced to the market- a lifesaver for brands, even local retailers.0
What is Price Intelligence?
Price intelligence is a data-driven method to monitor, analyze and track the market trends, and competitor's price changes. You can make comprehensive decisions about your product's price and the adjustments you need to make from the data you receive from the price intelligence process.
Besides, you can also monitor how consumers react to price changes and take action to match those reactions. You can not only find an ideal price for your products but also can adopt new marketing and sales strategy from those data.
In today's competitive business market, it's not easy to compete with other brands and suppliers if you don't integrate a price intelligence process into your business.
Why Does Price Intelligence Really Matter?
So, why is price intelligence so crucial in this modern era? Retail price is competitive more than any other time. And price takes a vital role in decision-making for the buyers who directly impact your business.
Modern-day consumers are more sensitive than ever. And why shouldn't they be? We live in a world of consumerism, and people buy many more things today than our forefathers used to buy. And when you buy more, you will consider the price more and inspect it if possible inspect.
Talking about inspection, comparing prices between products was not easy in earlier days. People had to move from shop to shop to compare product prices and quality. But that is not the case today.
According to Statista, the number of digital buyers online was 2.14 billion people who bought products online. 80% of the USA population buys online. The emergence of e-commerce has made pricing more difficult for every business.
People can visit multiple online stores at once and compare the prices between products. Moreover, there are several apps designed specifically to compare prices between various products across websites.
As consumers are becoming smarter, there are no options left for brands to become advanced. Do you know Amazon adjusts their products' prices every few minutes? Not only Amazon but other brands also change their products' prices by analyzing data from their price intelligence program.
If we summarize why price intelligence is essential for a business, that would be:
Over-pricing will affect your sales, and underpricing will affect your profit margin. So, price intelligence is mandatory to identify the ideal price for your product or service.
Marketplaces like Amazon, eBay, and other multi-vendor websites are bringing new retailers into the market and increasing the competition. And the only way to track prices from different retailers is to integrate a price intelligence system.
Understand buyers' behavior for different prices from your competitors and make your sales and marketing plan with those data.
Therefore, price intelligence is crucial to set an ideal price for your products while maintaining the ideal budget. Besides, you will be able to maintain a reputation which increases the brand value.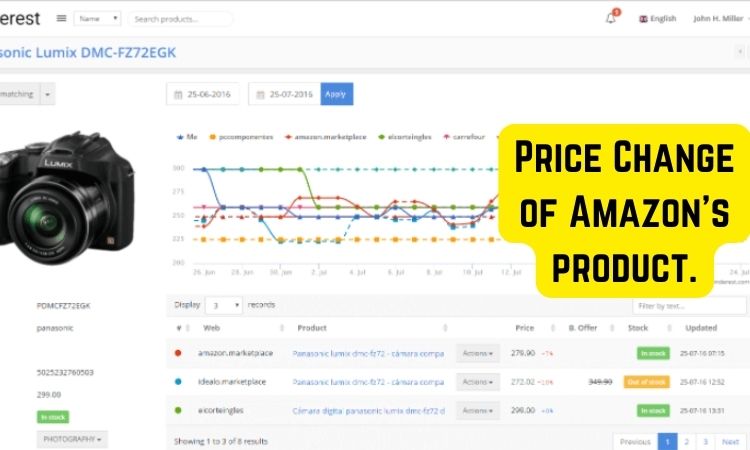 What is Price Intelligence Software?
Price intelligence software is a web-based automated system or tool that helps the brand, retailer, or individual sellers track competitors' prices. It can grab prices, across platforms, and across time.
For price intelligence software no competitor is too big. This software can track any eCommerce website, grab their prices and send those data to your database. Most Price intelligence tools come with an API to export data.
You can get detailed insights into others' businesses. What are their current prices, what were the last prices, how often do they change their prices, and many more?
You can summarize price intelligence software with the following steps:
Tracking competitors' prices.
Monitor and Analyze Competitors' prices.
Take action depending on those data. 
Why Should You Analyze Competitors' Prices?
Over 90% of buyers prefer to analyze prices from different marketplaces before making a decision. In this modern era, various applications made these comparisons even more straightforward.
If you were a businessman before the innovation of the internet and eCommerce platforms, comparing competitors' prices would have been easier. But now, nothing is local. eCommerce made it possible to access anybody's products literally from anywhere in the world.
As users are accessing the same products from global vendors, it's obvious that over-pricing will encourage them to leave your shop, and underpricing will create doubt about the quality. That's why price intelligence was introduced to the market to make shoppers' lives easier.
Do you know, Amazon reviews its products' prices every two minutes, and so do other top platforms? And the only way to adjust their product prices is by implementing a competitor price analyzing system.
You can track your competitors' prices and analyze them, which always gives you an upper hand.
How to Monitor Competitors' Prices?
We hope now you know a little bit about price intelligence and the reasons you should use price intelligence software. But how can you implement the price intelligence process in your business? The steps are:
Find your competitors
Collect their pricing data
Analyze data
Let's elaborate on those factors to give you a better understanding:
Find Your Competitors
The first step is finding your competitors. Who else is selling your goods, and what are their price ranges? That is the first question you should ask. Your competitors can sell their products on different platforms such as a physical store or online marketplaces.
If they are using a physical store, the price of their goods will not change frequently. But if they use an online store, you will see they are changing the price of their products more often. Keep your enemies closer. That will be your motto here. It doesn't matter which channel they use. You should closely monitor their pricing policies.
Another critical factor is to identify the competitors. Not all competitors are the same. Some are more influential than others. Selling similar products does not make a business your competitor. Identify your customers and find the most influential competitors to get a clear idea using the price intelligence method. 
Collect their Pricing Data
You can collect pricing data of your competitors once you perfectly identify them. Though price intelligence is a new term, businesses around the world have been applying this technique for many years. But you can do that more quickly and efficiently by using a price intelligence tool.
Automatic price intelligence software has made the process easier. Yes, still, you can apply a manual data collection process. You can have your own team to collect competitors' data. But that will be a huge task and cost you a lot of money.
A Price intelligence tool such can track competitors' prices across channels considering SKU, Brand, and product categories. The primary purpose of using the price intelligence tool is to track competitors' data. But you can get more than that by using a price intelligence software. You can track competitors' prices, price changes, and other details.
It would be best if you decided how often you will gather. It will not be the same across industries. It will depend on how often your competitors change their prices. It could be weekly or daily. You should collect data as your industry demands.
Analyzing Data
This is the most vital part. Everything will be in vain if you don't analyze the data you collect. When you have accurate data, you can set the ideal price for your products.
Identify how often your competitors change their pricing strategy. Analyzing that, you can identify why your competitors change their prices and when they set a certain price. It will help you to determine how your competitors take their decisions, and you can also implement that philosophy in your business.
Analyzing data will also give you other advantages. For example, you can make your marketing and sales policy. Your competitors' business insights will help you identify their pricing policies and take your decision based on that strategy.
When you have a price intelligence automation system, it's like you know the thought process of your competitors. And can you give you a better advantage than sitting inside their heads?
Use Price Intelligence to Develop Your Perceived Value
After identifying companies, it's time to determine your perceived value. What is perceived value? Perceived value is what makes people buy your products. For example, people who buy products from Walmart are looking for the best deal. They might don't care about the price outside Walmart and come here to buy their products.
So, how will you determine your perceived value? It is a complex task, and you need a huge amount of data to analyze that. But the basic step is straightforward how your audiences react to the price. Do they really care about high or low prices, or do they prefer a marketplace and buy from there?
To identify the perceived value, you have to detect how the audiences react to the prices. Do they prefer quality over price? Or do they care about price more? This is a tough art to master. But once you master this art, it will be very easy for you to beat your competitors by using a price intelligence tool. 
Additional Read: What is IP VPN and Do you Need it?
How does Competitive Price Intelligence Help to Set Your Business Strategy?
When you have data and analyze it using competitive price intelligence, you can change your business strategy.
Change your Price
When you have specific data, you can adjust your price according to your competitors. If you find less price can be a selling point, you can reduce the price to increase your sales. But remember, reducing the price too much can affect your profit margin and brand value.
So, understand the selling point and set your pricing strategy accordingly.
Change your Marketing and Sales Strategy
This is another handy benefit of applying a price intelligence strategy. You can create promotions and offers when you have specific price data of your competitors. Creating product-specific promotions can help you to improve your sales.
You can set your marketing costs for better ROI when you have a successful price intelligence policy.
Implement a Price Intelligence Tool to get an Upper Hand over your Competitors
Though you can implement a price intelligence policy manually, that will be a tiresome job to do. And manual price intelligence can not compete with an automated price intelligence program.
Benefits Of using a Pricing Intelligence Software
Efficiently search prices by competitor, range, product, and category.
Automatic Data Collection, daily tracking, and detailed reports. ​
Get all the data to your databases using API.
Insights and changes in prices 
Historical pricing reports of competitors and products.
Conclusion
Whether you are a brand or retailer, price intelligence software can help you a great deal. It saves money, and you get improved competitor visibility. If you can not watch over your competitors in this digital era, you can never prosper in your business.
I have tried to cover everything you need to know about price intelligence and a price intelligence tool. If you have a running business, I think it's high time to implement one as soon as possible to beat your competitors.