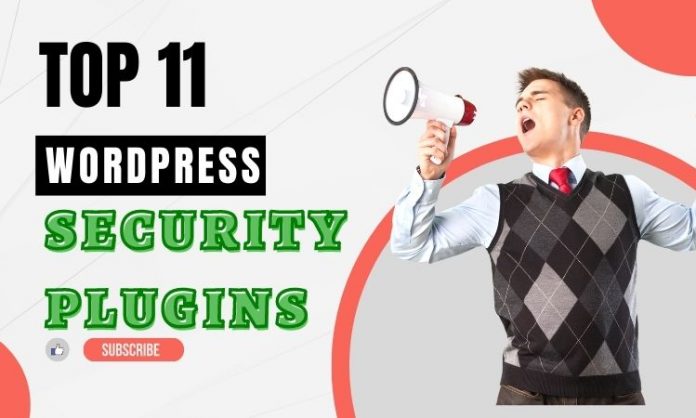 On December 9, 2021, one of the top WordPress security plugins, Wordfence, found an incredible cyberattack. Their expert team's inquiries revealed an attack on over a million WordPress websites. Wordfence has blocked 13.7 million attacks from 16,000 unique IP addresses against four plugins and several Epsilon Framework themes on 1.6 million websites in the previous 36 hours. Scary, isn't it?
Though that was an exceptional incident, WordPress websites face millions of attacks every day. Research from the famous WordPress theme and plugin-selling platform Colorib found that nearly 13,000 WordPress websites get hacked every day!
I am not trying to terrorize you. A CMS with over 60% market share must be at the top of the list of hackers and spammers. But the number of WordPress websites is increasing day by day! So, if you are thinking Is WordPress secure? Yes, it is. But nothing is 100% proof. That's why I always suggest my clients use a WordPress security plugin and here is my list of the best WordPress Security Plugins.
Why should you Use Security Plugins in your WordPress Website?
You already read the statistics. So, I won't share more to scare you more. Allow me to share a personal experience of mine.
I operate some affiliate websites for my clients. In August, we saw that our site was down, and we could not log in to the dashboard. I contacted our hosting service provider, Bluehost. Their technical team found that our site was getting continuous login attempt attacks. They blocked the IPs, but it did not resolve the issue.
We faced the issue for some days. And after a few days, Bluehost's top security team took our case and prevented all the Login attempts. But as it was an affiliate website and received a good amount of traffic each day, my client lost a significant amount of revenue that he could have earned.
So, my dear friends, if you are running a WordPress website, you must take the security issue very seriously. WordPress has very strong security, but no system is 100% accurate. Hackers, Spammers always find a way to invade your property. And you can not blame WordPress for that. As a website owner, it's your responsibility to protect your site and update its security.
A security plugin is the best way to do that. Therefore, I have come up with a list of the best WordPress security plugins so that you can protect your website from online thieves.
Let's secure your website NOW!
11 Best Security Plugins for WordPress in 2022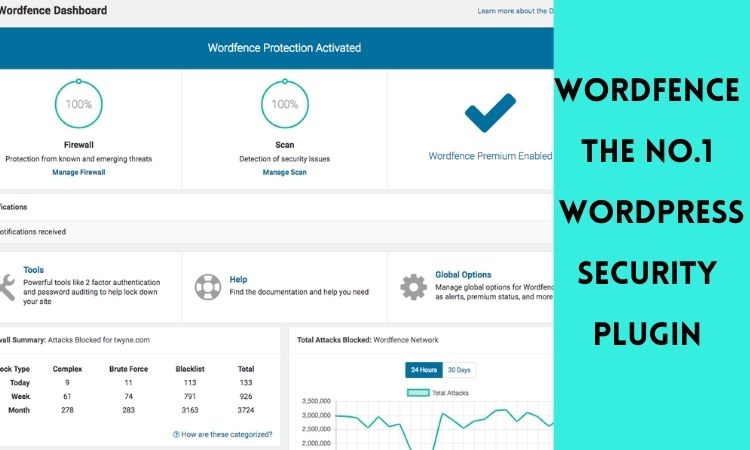 Every webmaster is aware of how important it is to keep their site safe. Site security is essential in this age of increasing hacking attempts and bad code. Using a security plugin, such as Wordfence, is a great option for this.
Wordfence has been downloaded over 4 million times, making it one of the most popular security plugins available. Its flagship free scanning tool checks all of your site's files for malware, broken links, and spam, including the core files, plugin files, theme files, posts, and comments.
Wordfence automatically and routinely performs these scans and notifies you of any vulnerabilities, threats, or corrupted files it finds. It won't help you recover the latter, but it will explain the changes that were made so you can fix the file more quickly.
Wordfence is unique among security plugins in that it offers a website firewall in its free edition specifically designed to keep bots off of your site. Wordfence's free tier protects against brute-force assaults by limiting the number of failed login attempts, and it also has real-time traffic monitoring.
Wordfence is a fantastic alternative for website owners seeking a security plugin due to its extensive capabilities and user-friendly design.
Top Features
Threat Defense Feed real-time firewall and malware signature updates
Malware scanner stops harmful requests.
CAPTCHA prevents bot logins.
Threat Defense Feed real-time malware signature updates.
Wordfence Central manages the security of various sites in one place.
Easily delete unwanted files in Wordfence.
Overwrite altered files with originals.
Hostname, UA, Referrer.
Block attackers by IP or IP Range.
Checks for harmful URLs and questionable material in files, posts, and comments.
Two-factor Authentication (2FA) is one of the most secure remote system authentication methods.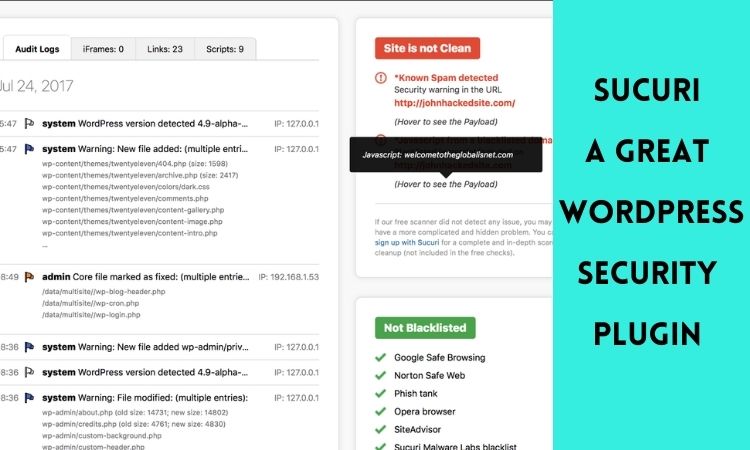 Sucuri is an excellent choice if you want to ensure the safety of your website. Its scanner is very good at finding security holes, and its firewall service is great at protecting against DDoS attacks, improving performance, and finding signatures. However, being a remote tool, Sucuri's scanner can only detect flaws in the website's pages and not the core files themselves. Further, you'll need to subscribe to Sucuri's subscription firewall service to gain access to all of its security features.
Because of its superior cybersecurity solutions and services, Sucuri is widely used by web developers and e-commerce companies. However, because it operates remotely, Sucuri's scanner has one major drawback. In other words, it can only scan the front end of your WordPress site for vulnerabilities and not the back end where the real action is.
You'll have to shell out some cash for Sucuri's web application firewall service if you want to make use of its many features, such as virtual patching and hardening, DDoS protection, CDN performance optimization, signature detection, and bot blocking. Many customers, however, believe that Sucuri's premium price is justified by the added protection and peace of mind it gives.
Top Features
Protecting Your Website From Hackers With a Firewall (premium)
Strengthening Defenses Efficiently
Blocklist Keeping an Eye On
Infection Scan from a Distance
Responses to Security Breaches
Keeping tabs on the safety of your files and checking their integrity through auditing
Alerts Regarding Safety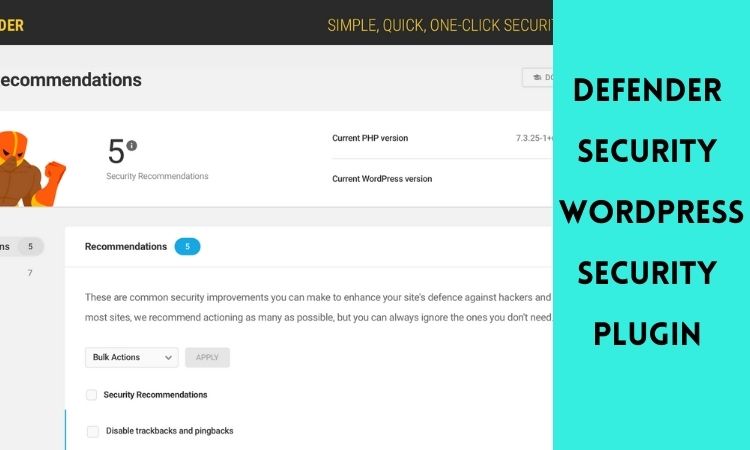 The WordPress security plugin Defender is brand new, but it's already been downloaded over a million times. The program begins securing your site instantly after its quick and easy installation and configuration.
If you're looking for a comprehensive security solution for your WordPress site, look no further than the Defender security plugin. This powerful plugin offers a wide range of features for protecting your site, including malware scanning, firewalling, event logging, and more. Best of all, it's completely free to use. With Defender, you can rest assured that your site is well-protected against threats.
The plugin's malware scanner will scan your site for malicious code and remove it if found. Additionally, the firewall will block suspicious traffic from reaching your site. And if anything does happen, the event logging feature will give you a detailed record of what occurred. So if you're looking for a solid security solution for WordPress, be sure to check out Defender. It's free to use and offers a great selection of features to keep your site safe and secure.
Top Features
Automatically detects and blocks malicious content
Protects your site against spyware, viruses, and other malware
Blocks access to unauthorized pages and posts
Prevents hackers from stealing your data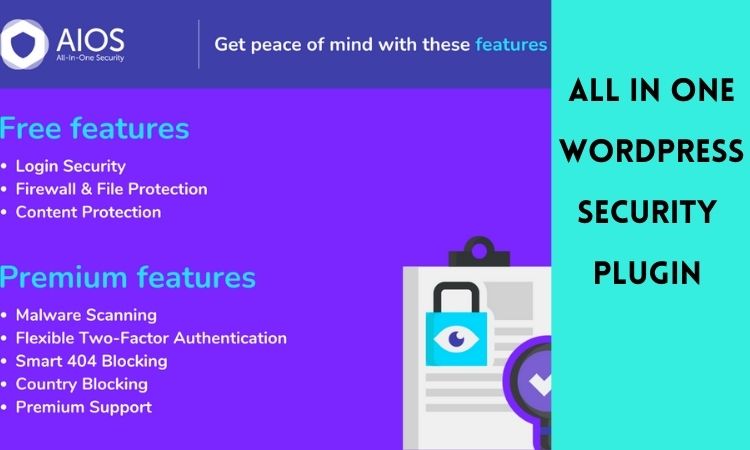 If you're looking for a versatile security plugin for WordPress, All In One WP Security & Firewall is a great option. This plugin boasts a wide range of features, including basic firewall protection, intrusion detection, and malware scanning. One not-so-beginner-friendly aspect of this plugin is that you need to edit your .htaccess and .user.ini files to enable the advanced features.
However, once you get the hang of it, this plugin is very user-friendly and provides a great deal of protection for your website. Overall, I would highly recommend All In One WP Security & Firewall to anyone looking for a comprehensive security solution for WordPress.
All In One WP Security & Firewall is an excellent security plugin for WordPress. It offers a wide range of features to help secure your website. The plugin is regularly updated to stay ahead of the latest security threats. The user interface is easy to use and makes it simple to configure the settings. Overall, this plugin is an excellent choice for anyone looking to add extra security to their WordPress site.
Top Features
Find user accounts with the default "admin" username and modify it.
Login Lockdown prevents "Brute Force Login Attack"
The plugin detects duplicate WordPress login and displays names.
Lock out IP ranges that utilize an incorrect username.
After a preset time, logout all users.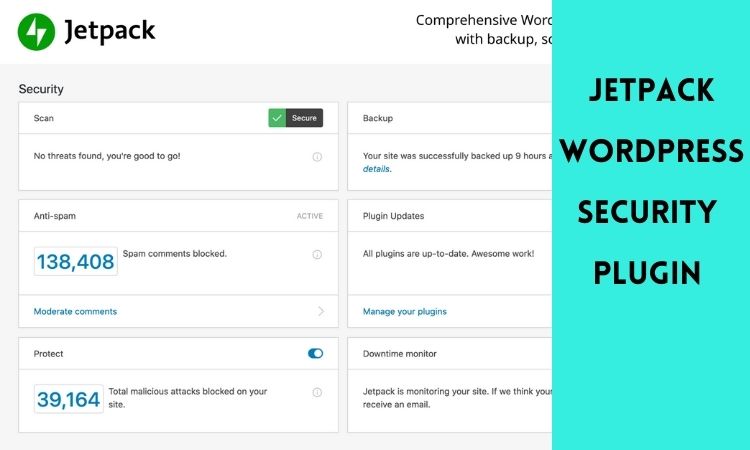 If you are a WordPress user, I don't think you did not hear about Jetpack. It is a complete all-in-one solution for WordPress. It's not only a security plugin but also comes with tons of other features, even with visitor analytics. It is developed by the WordPress business platform and provides all types of solutions, from security to marketing.
If you're looking for an all-in-one WordPress plugin that offers benefits for design, marketing, and security, the Jetpack security plugin is worth checking out. Once installed on your WordPress site, you'll be able to take advantage of high-end design features like a faster content delivery network and solid customization tools.
From a marketing standpoint, you'll be able to take advantage of features like analysis and statistics, SEO tools, Facebook Ads, and Google AdSense and Adwords advertising programs. And from a security standpoint, the Jetpack plugin provides features like two-factor Authentication, malware scanning and removal, and brute force attack protection.
Overall, the Jetpack plugin is a powerful tool that can help you get the most out of your WordPress website. it offers features like two-factor Authentication, malware scanning, and brute force protection. Overall, the Jetpack security plugin is a great choice for anyone looking for an all-in-one solution for their WordPress website.
Top Features
On-the-fly, automatically occurring site backups.
Use Akismet-powered anti-spam capabilities to filter out unwanted comments and form submissions.
Email warnings are sent immediately upon a system failure, allowing users to respond quickly.
Provides security against Brute Force Attacks by filtering out unwanted form submissions and comments.
The limitless backup space makes it a good fit for online store platforms like WooCommerce.
Viewing who made each change and when helps with site-wide coordination, debugging, maintenance, and troubleshooting.
Dedicated WordPress professionals are available for immediate assistance with any questions or concerns you may have.
Plugins' auto-update functions make site management and maintenance a breeze.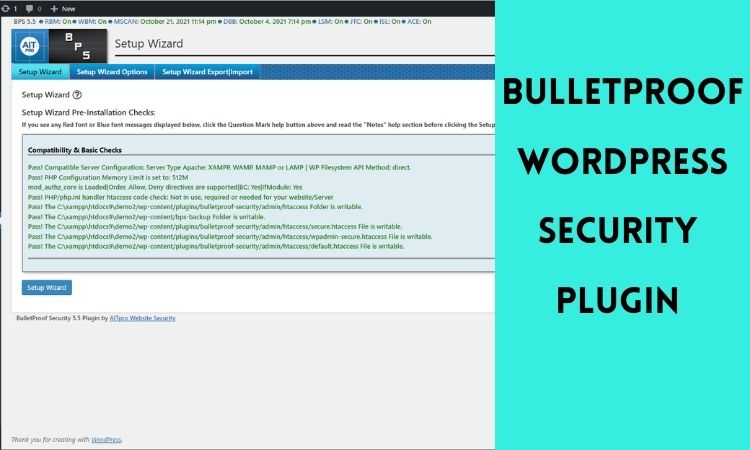 BulletProof Security for WordPress is an effective and reliable WordPress security plugin that offers a comprehensive security feature set.
The plugin includes a malware scanner to identify and remove malicious files and scripts from your WordPress site, a firewall to stop unauthorized access to your site, login security to protect your site's login information, and a database backup to create a secure copy of your site's database in case of emergency.
BulletProof Security is one of the most popular WordPress security plugins. It offers a comprehensive set of features to secure your website, including a malware scanner, firewall, login security, database backup, and anti-spam protection. With so many features, BulletProof Security is an effective and reliable way to secure your WordPress site. And best of all, it's easy to use!
Those that worry a lot about their site's security may find that BulletProof Security is the ideal plugin for their needs. The primary.htaccess file is modified, making this plugin ideal for firewall and login hardening, database protection, and general security.
We designed BulletProof specifically with the needs of company owners in mind. Maintenance mode allows you to correct website faults without disrupting visitors' experience. Security logging and HTTP error reporting are also included.
Both the free and paid versions of BulletProof Security offer a wealth of features, while the latter offers twice as many. Although several plugins provide a firewall for free, you'll need to upgrade to this one to access its full, expert-level features. Nothing else on the market compares to it.
Top Features
One-click installation
DB Backup: Full|Partial|Manual|Scheduled | Email Zip | Cron Delete Old
JTC-Lite (BPS Pro JTC Anti-Spam|Anti-Hacker)
Expiring Auth Cookie (ACE)
DBTablePrefixChanger
Strong passwords (FSP)
Monitoring logins
Logout Idle Session (ISL)
Automated WordPress Updates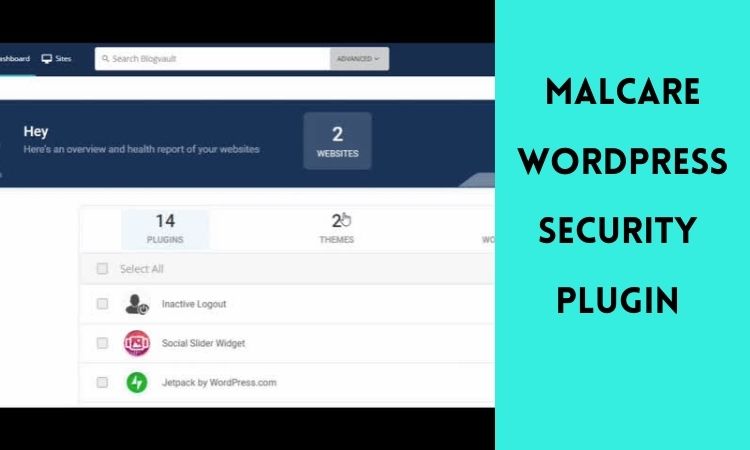 MalCare's various capabilities include the ability to instantly identify and remove malware, as well as safeguard against its reintroduction. Further, it has a firewall that may prevent attacks from unwelcome sources without using your computer's resources and a security feature that can prevent unauthorized users from accessing your system.
It's the best way to get rid of malware, and it doesn't cost as much as employing a security expert would. This is because it has a revolutionary "click and clean" capability that detects almost all malware-infested websites. Since all scans occur on Malcare's end, there is also no danger that they may slow down your site.
The plugin uses smart technologies to scan the web for security flaws and activate appropriate countermeasures to keep your WordPress site safe. For instance, it may prevent access to a file and then inform you that there is a problem with the access.
Another impressive feature of this one of the best security plugins is providing developers with tools like white-labeling and reporting.
With these tools, you may easily and discreetly monitor your clients' websites without compromising security. All in all, it's a reliable and efficient security solution that will keep your WordPress site safe from any potential dangers, whether they are currently known or undiscovered.
Top Features
Performs an instant cleanup in under a minute.
Deep scanning for malware in the cloud.
Allows WordPress users to make their sites more secure.
There will be ZERO disruption to your online presence.
Identifies malicious software BEFORE it may do damage.
Your WordPress site won't slow down.
Detects and stops EVIL traffic.
Examine the compromised data here.
Detects even the most advanced and novel forms of malware.
Prevents automated hacking attempts.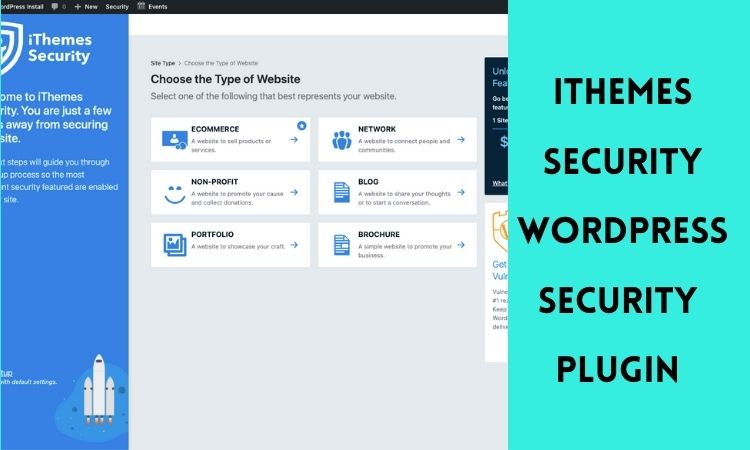 This cutting-edge security plugin, also known as Better WP Security, safeguards your website with 30+ built-in ways of keeping hackers away. Due to its long history (it was first released in 2008), it has become one of the most widely used WordPress security plugins. Furthermore, the program is designed to repair standard computer flaws. Furthermore, a password strength check is available.
If you're not familiar with security terminology, you won't have any trouble using iTHeme Security. Each function of the dashboard is itemized on a handy checklist. A dashboard displays any updates to your site and allows you to modify the settings. In this manner, you can halt any automated attacks before they cause too much harm. There is also a paid edition of the program that includes two-factor Authentication as an extra security measure.
When it comes to comparing files, you are going to need a premium subscription. This improved version keeps a close eye on any modifications made in real-time and examines the source of the file to determine whether or not any malicious code was included. At this time, it is solely applicable to the principal directory that WordPress uses.
With iThemes Security Pro, you can have access to more advanced features such as password expiration, GeoIP blocking, automated daily malware detection, two-factor Authentication, and Google captchas for some additional bucks. Although we provide a free tier for new users, the paid premium tier is where most of our users choose to stay.
When the security tool detects any unusual behavior in your WordPress installation, it immediately shuts it down to prevent any unauthorized access. It includes a one-click installation and configuration approach that calls for zero coding expertise.
Top Features
Two-Factor Authentication (2FA)
reCAPTCHA (Pro)
Passwordless Logins (Pro)
Identify the trusted devices you and other users use to thwart session hijacking threats.
Create a password policy in under a minute.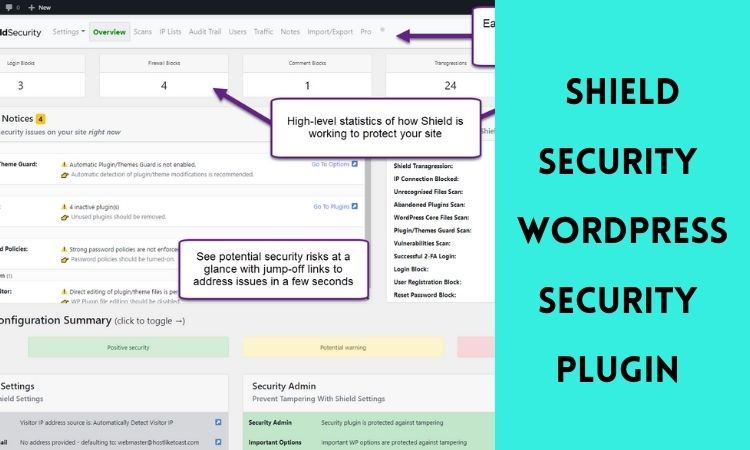 The Shield team did a fantastic job making the app aesthetically pleasing. This program provides top-notch security for your website. In addition, the solution includes one of the best WordPress core file scanners available. An automatic IP blacklisting and automated comment filtering feature are included in (Spam). It also helps with audit trails and user activity recording. Overall, it's a program that can help you set up and execute security checks with expert precision.
If you use WordPress, you may clean up your site with the help of this plugin. There's also a comprehensive dashboard that flags potential security issues for a quick resolution.
Not only can Shield Security detect changes to core files but also to plugins and themes. The Shield Security team hand-coded their file fingerprints and combined them with other popular WordPress plugins and themes such as Better WP Security, Bulletproof Security, ImmPress Gutenberg, Meta Updates Core Hooks, Subscribe to Comments Reloaded, and WPS 2.0.
You'll need the ShieldPRO add-on to safeguard your premium plugins and themes. This is the most cost-effective method of keeping your site up at all times by receiving personalized, one-on-one technical assistance and having access to our extensive library of regularly updated WordPress plugins.
Top Features
Protects the WordPress login page with an SSL certificate.
Controls all user behavior.
The primary scanner that quickly and reliably identifies dangerous files.
Tests add-ons and templates for security holes.
Caps the number of unsuccessful login attempts and instantly defends against Brute Force assaults.
Your website will be protected by a firewall that is 100% effective.
Configuration files may be imported or exported from and to any site using the plugin.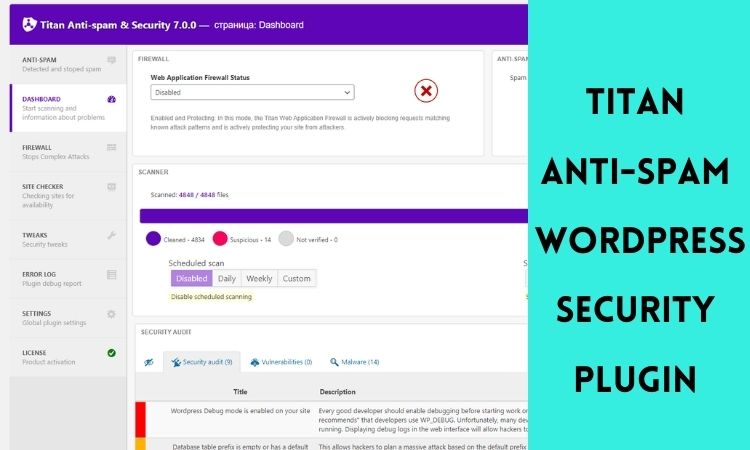 In its early stages, Titan Anti-spam & Security just blocked spam. More than simply a spam filter, it now actively checks WordPress installations for malicious code, broken links, backdoors, and SEO spam. The best part? There is a free version available that will delete any spammy comments.
Titan Premium is an all-inclusive anti-virus, anti-spam, and anti-malware solution. Your website will be protected from over 50% of attacks because of its easy-to-use three-stage spam filtering system.
The real-time IP blocklist keeps a constant eye on your website, and you can check at any moment with scheduled scanning to make sure there is no malware or other malicious links on your site. The firewall's rules and malware signatures may also be updated on demand.
Top Features
developed algorithms to guard against inaccurate spambots and guarantee dependability.
When a person makes a post, their remark is shown instantly.
Examining the current comments and users for unwanted spam.
Secure from spam robots 100% of the time There is no need for additional security.
Background checks identify and conceal spam comments from public view. As a result, the user experience is enhanced and participation is boosted.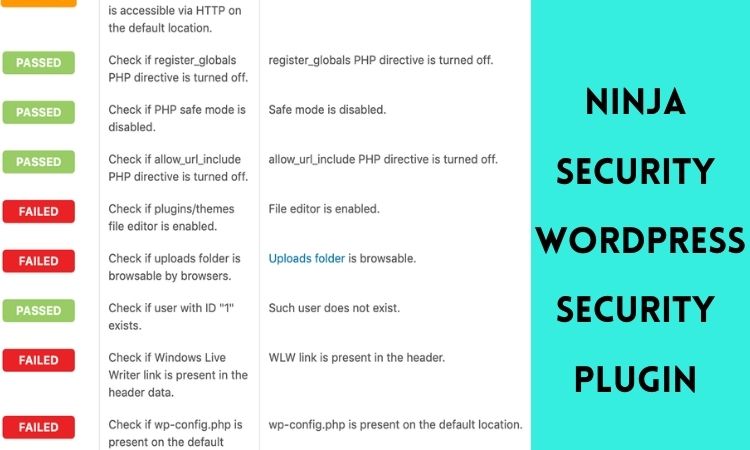 Security Ninja WordPress Plugin is easy to use and has a guided wizard that takes you to step by step through the process of securing your site. It also includes features to help you track your security progress and make changes as required.
Security Ninja is the plugin for testing vulnerabilities. More than fifty different tests, including those for weak passwords, malicious code, and insecure themes and plugins, are run. In addition, Security Ninja provides you with a thorough dashboard that will report on the security of your website.
The free edition of Security Ninja does not fix any potential issues on your site; it only reports on them. In this manner, the transition won't be as jarring and taxing as it could otherwise be.
Consider purchasing Security Ninja Pro if you need a plugin to address these problems automatically. In addition to the standard firewall, malware scanner, events logger, and scheduled scans, it also features an automated repair mechanism.
Top Features
As the site owner, you retain complete control over the site's content and design, and Security Ninja does not make any modifications on your behalf.
Quickly and easily run over 50 different checks for security.
There includes comprehensive documentation for each and every test, in addition to detailed explanations of their results and guidance on how to address any issues that may arise.
Verify that your site hasn't any glaring security flaws.
Avoid assaults by taking the necessary precautions.
Detects security holes in your website and alerts you to them.
Make sure script kiddies can't access your site.
Neutralize attacks using previously undiscovered vulnerabilities.
Improve the performance of your database.
Additional Read: Best Caching Plugins to Increase the Speed of your WordPress Website. 
Conclusion
I hope this article on the best security plugins for WordPress has helped you figure out which plugin is right for your website. WordPress is a great platform for building websites, but it's important to make sure your site is secure. With so many options available, it can be tough to decide which plugin to use.
I have been working with WordPress for over seven years, and still, I stay very alert when it comes to securing a client's website. Because the platform is growing, hackers and spammers are finding new tricks to hack or create problems for the site owners.
In conclusion, these are the best security plugins for WordPress in 2022. All of them offer a great set of features to help keep your website safe and secure. So, if you're looking for a plugin to add an extra layer of security to your WordPress website, you can pick one that fulfills your requirement and stays within your budget.
Remember, "Prevention is always better than cure."