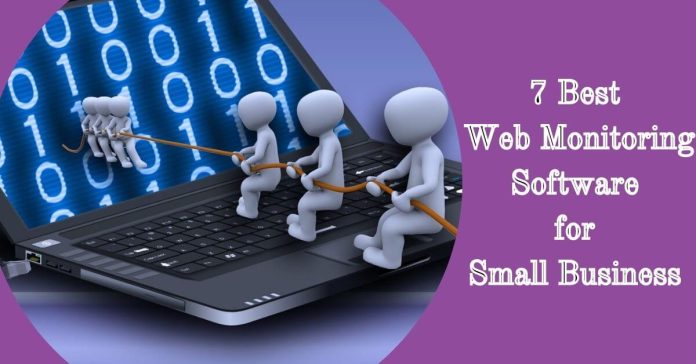 So many terms you may find when it comes to Web monitoring, website performance monitoring, or network monitoring software, correct? But functionally, all do the same thing, and it is monitoring.
Web monitoring software for small businesses is a worthy investment for both website checks and real-time issue detection. Website performance, page load, benchmark, detection of Core Web problems, dashboard, and real-time alerts too.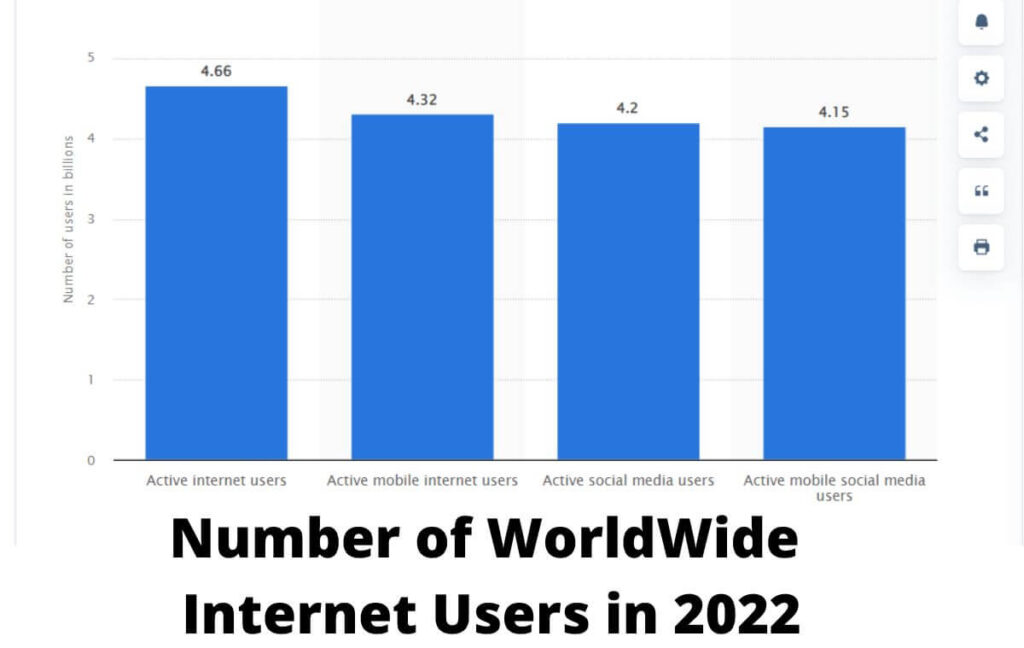 Above, you may find a short statistical report on online activity worldwide. This stat is from January 2021, and it's spiking every moment. And your employees are also a part of the billion users. So, it's high time to use web monitoring software for small businesses.
Web monitoring software is meant to simultaneously do some of the most challenging and essential tasks for small businesses. Wondering how? Let's find out.
What is Web Monitoring Software for small businesses?
We all know what software is and what it does in common. But now, the question is about web monitoring software for small businesses. Like other software, web monitoring software helps you keep track of your business website's overall activities.
To be more specific, web monitoring software is a combination of tools that allows for defining metrics like Page loading time, TTFB (Time To First Byte), CPU Memory usage, Up-time, Domain alert, Domain Authority in SEO, etc.
This way, you can stay alert and solve problems quickly.
Why should small businesses use web monitoring software?
Running a business is always a challenge at every step. You will need to weigh many facts and face many issues here, but success is all that matters at the end of the day.

Nowadays, personal and business websites are standard, and I'm sure you have a website for your small businesses. If you don't have one yet, don't worry. We can provide you with a step-by-step guide for you.

Just like every other fact of your business, websites do need good service, maintenance, security against threats, and many more. This is where web monitoring software for small businesses comes in handy.
Key Facts
In business, if you want to improve your business through the web, you have to ensure its performance is always up to the mark.
With the help of a web monitoring software for small businesses, you can monitor
Uptime: This will show you the maximum time your website stays available for the users. It's calculated in percentage against a certain period.
Load handling: This will monitor the pressure is your server handling at the moment with the highest load management capability.
Latency: This will help you to determine how fast your website and server respond to the users' end.
Website's overall health: Monitoring the performance of the website in real-time. This includes the website and the infrastructure both.
Probable vulnerability: This facility will alert you about all the lackings, unwanted changes in the system, and hacking attempts instantly. And will continue to check frequently.
Further system updates: All the system updates including web monitoring software, cms, and its addon/plugin will be notified to you in real-time.
And some more. These are the very basic activities that you can utilize in your small businesses
Key Types
In the above section, we learned about some of the basic features of web monitoring software for small businesses. The types of web monitoring software for small businesses can be classified based on activities. And they are
Performance Monitoring: This is what Web Monitoring Software evolved for. Each component of the website that increases or decreases performance is tracked by this system.
Server Monitoring: This facility monitors the performance of your server that supports IP/ TCP protocol. Also, keep track of the availability of your website frequently.
API Monitoring: This service helps to monitor your mobile apps via REST API, and for that, some vendors use API Chain Management systems like Site24x7
You may find a few more types like uptime monitoring and domain monitoring. Here I present to you the 7 best web monitoring software for small businesses. The choices were made after a year of trial and research. I hope you'll find it handy.
Popularity Score: 4.3/5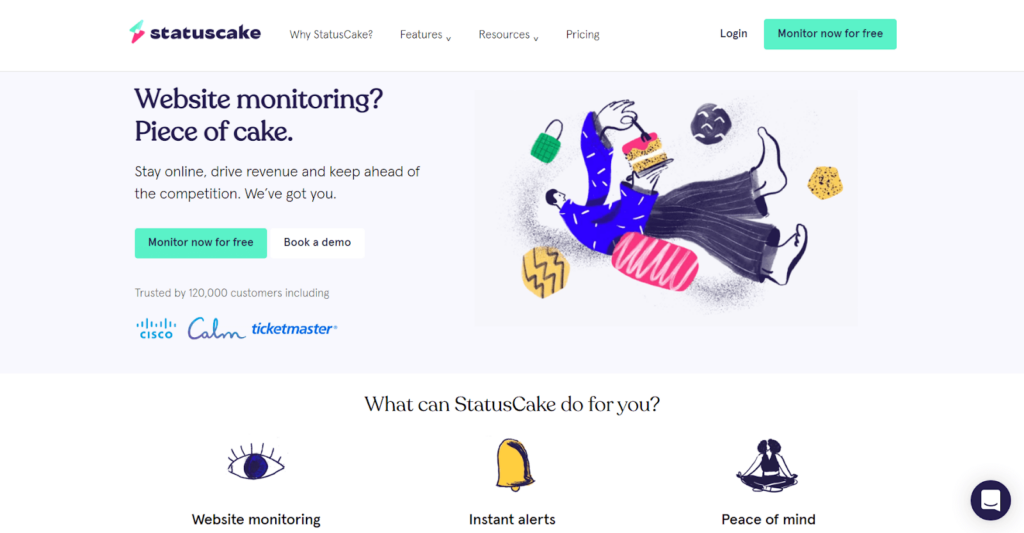 Monitors your website performance and offers you the best support so that you can concentrate on expanding the business. Revenue generation is easier with an SEO-friendly environment and real-time alerts.
Pros:
Monitors your website from over 30 countries at a time.
Real-time notification whenever you're about to cross-server thresholds.
Helps to identify core problems that can reduce your performance and suggests a way to improve.
Provides the lowest testing time of 30 seconds.
SEO-friendly service.
Cons:
Limited API support.
In some cases, system updates are set to Live without a sufficient trial period.
Plan & Price:
Starts with a basic package free of cost, a Superior package for $24.49/month, and a Business package costing $79.99month. Unlike other web monitoring software, StatusCake offers you a 7-day trial period without any credit card integration.
Popularity Score: 4.5/5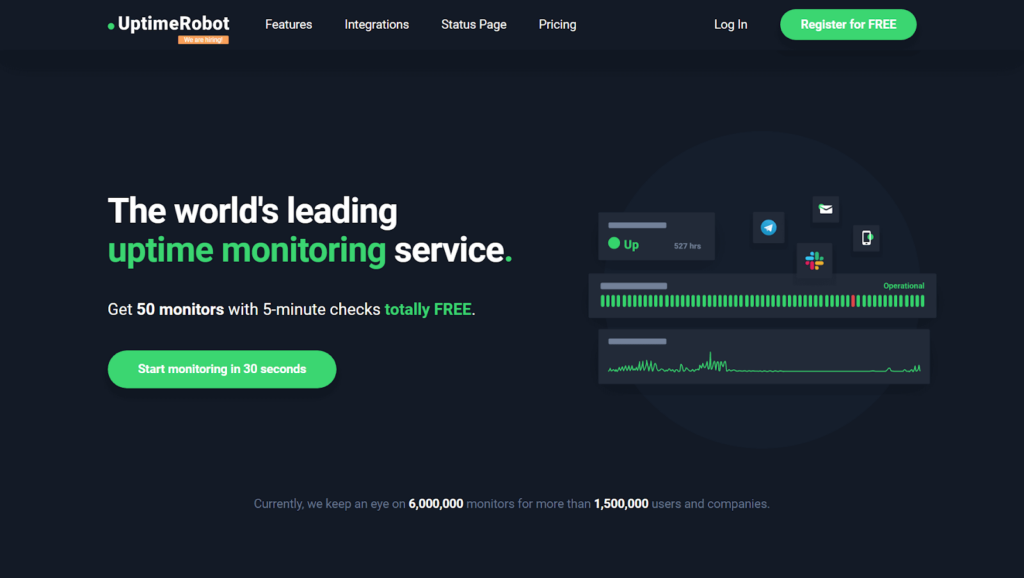 An all-in-one Web monitoring software to offer you website monitoring along with Web Application and API monitoring. Even you as a guest can try a demo project and have an idea of Uptrends' extensive facilities.
Pros:
Synthetics, RUM, Infra, ITRS Infra, and Cloud Cost are all in one place
Provides Performance checker, Uptime checker, and Diagnosis tools free of cost.
A blog for learning and a helpline for technical assistance.
In all, there are 229 checkpoints around the world.
Shadow DOM for transaction monitoring.
Real-time alert for every change that happens to your website.
Cons:
Unlike Other Web Monitoring software, Uptrends leaves very few sectors that a user can complain about. Although some of our users suggested that the UI can be upgraded a little more.
Plan & Price:
Uptrends offers you 3 basic plans both monthly and yearly (with 10% savings). The packages start from $16.21/month to $54.04/month. Through price quotes of Business and Enterprise, the price can be customized.
Popularity Score: 4.5/5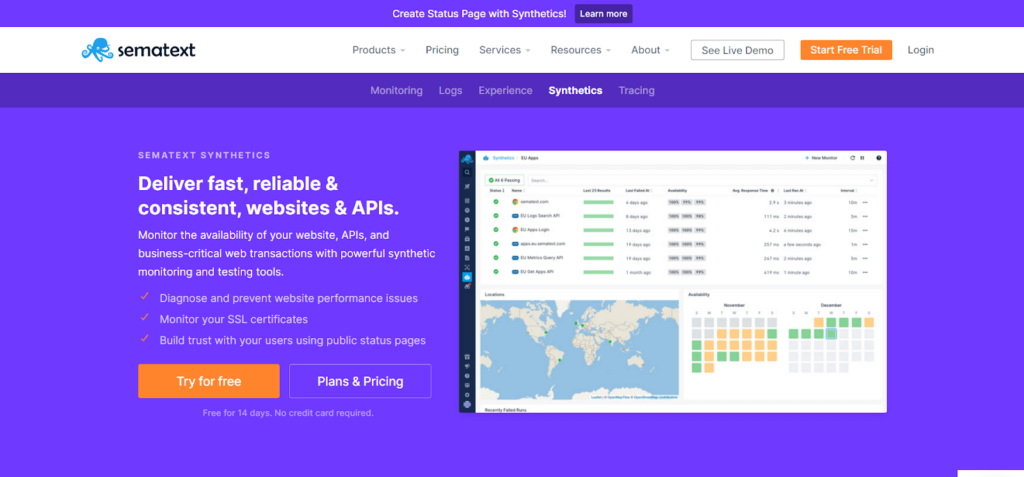 An innovative platform with loads of tools to manage your website from multiple angles. You can do real-time user monitoring, log analysis, synthetic monitoring, and many more. Trusted by the world's leading industries like Microsoft, Dell, eBay, and more.
Pros:
Benchmark with competitors' website performance
3rd-party activity monitoring, including SLA, SSL, and API calls.
Waterfall analysis, including Web Vital checks.
Configure a custom dashboard with the features the user wants.
Early detection of performance issues by running a CI/CD pipeline with instant notification.
Cons:
There are some disadvantages to almost every single system/platform/software. However, our trial and research team found that this program had a little more customization than most users would need.
Plans & Price:
The Sematext platform provides users with a wide range of services and plans so that they can have more than they need. They are Cloud, Log, Monitoring, Experience, and Synthetics. Each of them offers distinct programs at different prices.
Popularity Score: 4.8/5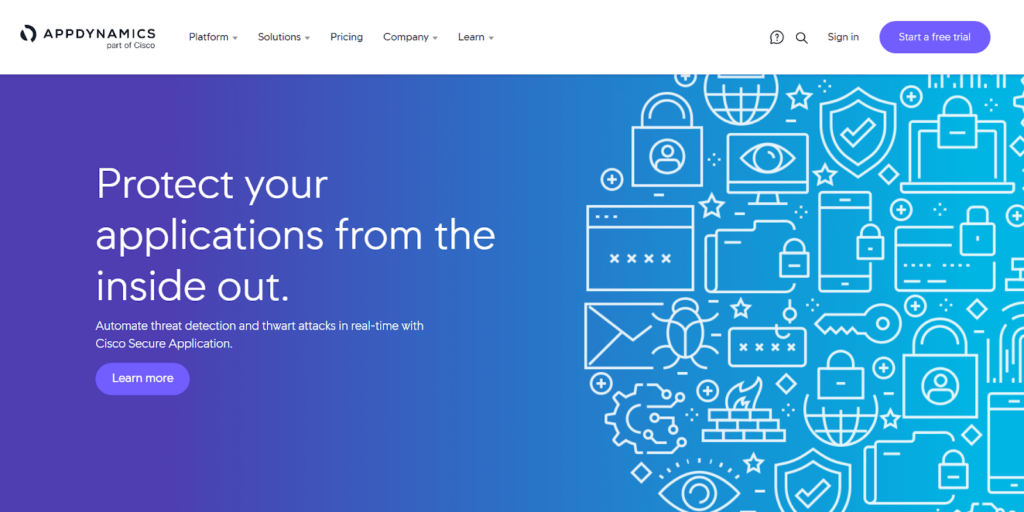 AppDynamic can provide you with full-stack observability. This means Business, Real-user, Application, Infrastructure, networks, and Security are all under supervision. You don't need any credit card for a trial period. Additionally, you can schedule a demo project, you just have to fill up a signup form.
Pros:
Monitoring facility for both the website and its infrastructure.
Dashboard with a massive collaboration of business class analysis.
Platform facility available for infrastructure level to enterprise even IT Professionals.
Rich in resources to support you in need.
Cons:
Overkilled Functionality in respect to small and medium businesses.
Comparatively more expensive than other similar software.
Probability of price hikes at enterprise-level product storing.
Inability to customize on-demand and requires a bit more patience.
Plans & Price:
You can choose between 4 different packages from AppDynamic. You can buy packages starting from $6/month where the maximum value is negotiable, along with 15 days of the trial period.
Popularity Score: 4.6/5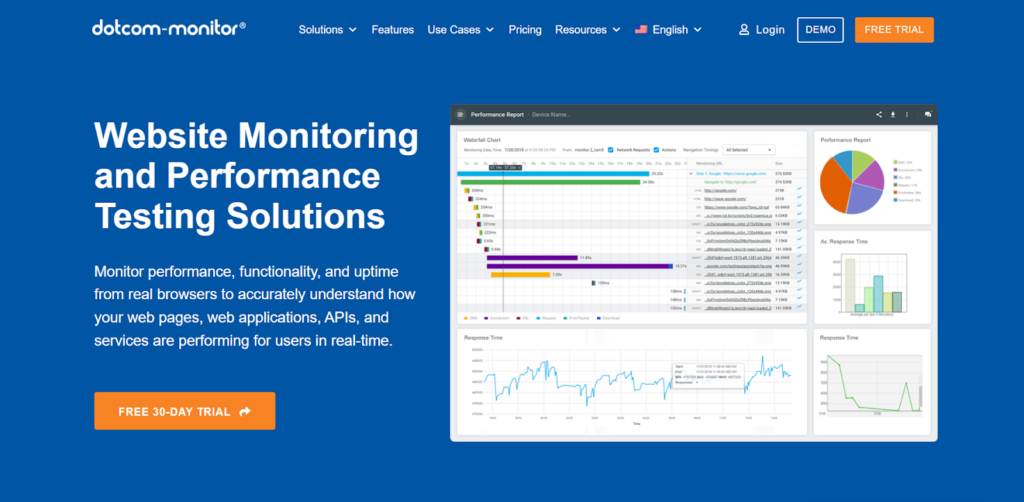 Robust platform monitoring and testing websites. There are several features in Dotcom-Monitor, including monitoring of GET and POST requests, SOAP API, SSL Certificate, ICMP Protocol, and more.
Trusted by tech giants like Microsoft Teams, Slack, and PagerDuty. Here you can enjoy 30 days of the trial period plus a scheduled demo project.
Pros:
Multi-step web transaction and performance monitoring facility.
Easy setup with innovative monitoring facilities.
Bunch of free tools completely subscription-free.  
Excellent support team with plenty of resources.
Cons:
The whole arrangement could be simplified so that anyone can recognize it at first glance.
Translation facility could be a big help for non-native users.
Quite difficult to configure complex flows in the system for a user.
Plans & Price:
Web services, web pages, web applications, and internet infrastructure are all pretty similar, right? But every package you choose will cost you monthly, starting from $17.95, and the maximum price is $39.95. This doesn't end here; you can contact the vendor for a higher discounted price.
Popularity Score: 4.8/5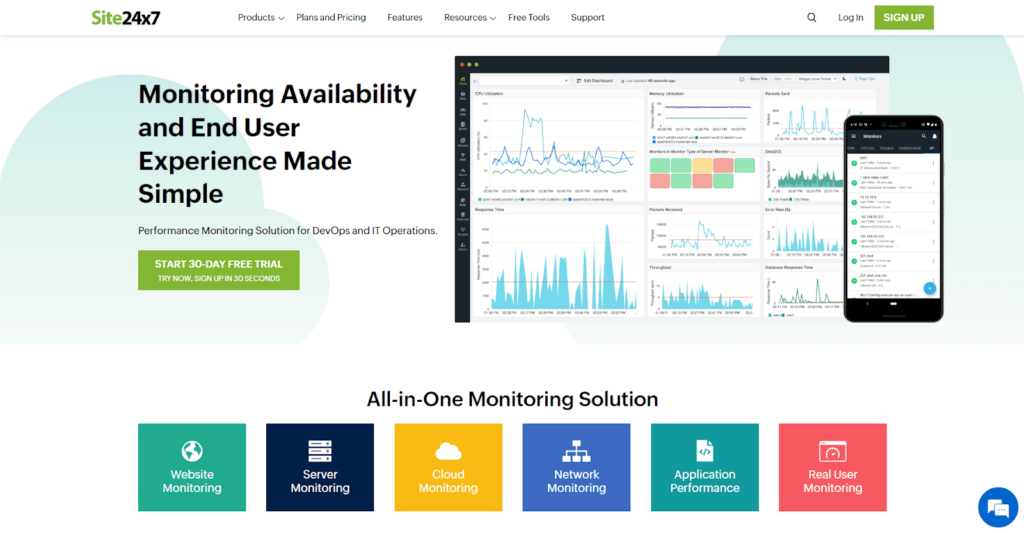 A powerful and cost-effective web monitoring solution. This allows users, WebMasters, and DevOps to monitor in-depth, troubleshoot, and find solutions quickly.
Unlike other Web monitoring software available on the market, Site24x7 provides an unconditional free Forever package option.
Pros:
All-in-one monitoring solution for websites, applications, servers, Cloud networks even security. 
There is maximum location-based testing capability, in more than 110 locations worldwide, along with SMTP, SOAP, IMAP, DNS, Ping, and Port.
Large collection of free tools, including the China Firewall Test for all kinds of users.
Active alert system via multiple channels like SMS, email, and even phone calls.
Test and record user experience through a real-time browser with optimization.
Mobile application monitoring via REST API and REST API Chain Monitoring system.
Free-forever package with so many facilities in this competitive market.
Cons:
So far, my trial and research team couldn't find any disadvantage that can demotivate one. The fact is, Site24x7 is a prevalent website monitoring software with tons of facilities. And with so many facilities,  a problem is a must, so stay alert.
Plans & Price:
Starter, Pro, Classic, Enterprise, all 4 packages with a trial period. Packages start from $9/month, and the maximum value is business $449/month, paid annually. The Free Forever package gives a golden opportunity for low-budget business people/ entrepreneurs a golden opportunity.
Popularity Score: 4.6/5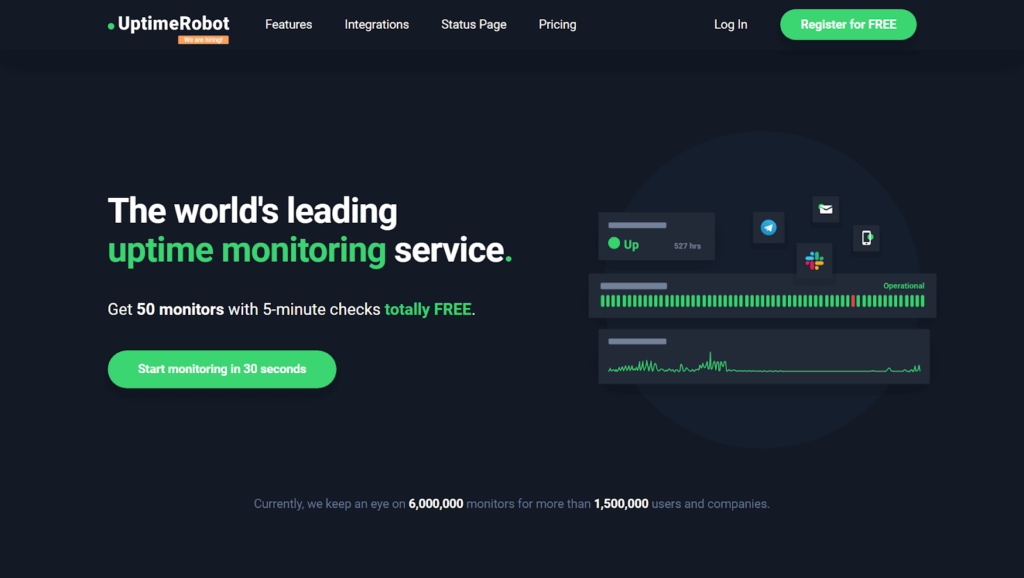 If you want to monitor every aspect of your website's performance, then UptimeRobot can be your most reliable solution. It's considered the premier uptime monitoring service in the world.

You can enjoy a simple monitoring service completely free of cost. This allows you to monitor up to 50 monitors from 12 different locations at once with a frequency of 5 minutes. [For easy use, 5 minutes is more than enough, so don't rush]

Additionally, both RUM (Real User Monitoring) and Synthetic Monitoring services are available through different packages.
Pros:
Easy Setup Procedure.
An advance notification system allows customizing error reporting.
Multiple alert channels include push notifications, SMS, and Email.
Corn job AKA Heartbeat monitoring.
Custom HTTP header & status
Budget-friendly plan with a hassle-free money-back guarantee.
Cons:
Provides insufficient speed insight.
Minimum 6 months Log retention for all packages could be a helpful feature.
Free version could add a mobile app service.
Plans & Pricing:
There are 3 smartly tailored plans available for the targeted user category. In terms of user satisfaction, complete satisfaction is impossible. The basic plan is a Free plan targeted at low-budget users; the rest are Pro and Enterprise level plans. Both Pro and Enterprise plans are customizable as the user desires, and that's why the price is uncertain.
Note: You may find some web monitoring software for small businesses that are similar by name. So don't get confused with UptimeRobot with others like Uptime by name 😎
At a Glance at Our Best Web Monitoring Software

Let's take a look at all 7 web monitoring software discussed above
Name
Score
Trial Period
Demo
Project
Total Package
Yearly/ monthly bill
Price Quote
Status Cake
4.3
7 Days
⛌
3 Plans
Both
Free to $79.99
Uptrends
4.5
30 Days
✔
3 Plans
Both
$16.21 to $54.04
Sematext
4.5
14 Days
✔
Multiple
Monthly
Free to $99/month
AppDynamics
4.8
15 Days
✔
4 Plans
Monthly
$6/month to up to custom deal
Dotcom-Monitor
4.6
30 Days
✔
4 Plans
Both
$17.95/month to up to $39.95/month
Site 24*7
4.8
30 Days
✔
4 Plans
Annually
Free to up to $449/month
UptimeRobot
4.6
N/A
⛌
3 Plans
Both
Free plan to up to custom deal
What Features does web monitoring software must-have?
When you make a google search regarding web monitoring software, you'll find lots of suggestions with a variety of facilities. But you need web monitoring software with specific criteria.
Let's check a list of facilities every web monitoring software must offer:
✔ Check Types with Frequency:
There are various types of checks you can run on your website. Such as Uptime, performance, Domain, SSL, etc. Monitoring. All of these checks are performed to ensure you're providing a top-tier web experience to global audiences.
On the other hand, Ping should be monitored regularly. Here the frequency of check indicates the number of times the ping is checked within a certain period. Here either you or the vendor can set the interval.
✔ Active Alert System:
One of the essential features of a web monitoring software must-have is an Active Alert System. You will be alerted to any critical issue or change using the precise and active alert system. You can be notified via SMS, webhook, email, or via any communication channel.
✔ 3rd Party Facility:
From time to time, developers add third-party services on websites based on client demand. The web monitoring solution you choose must have the facility to integrate 3rd party tools.
It will benefit you not only in terms of security checks, but also in terms of SEO, Performance, and Collaboration. You can also communicate via proper channels to the right person. Either way, this facility is a must for web monitoring software.
✔ Pre-Production Trial:
Software vendors, firms, and companies all strive to push the limits of their software. And this experiment continues for a long time.
In your case, the web monitoring software must provide you with a similar authorization to experiment on your website and find out how it behaves. You can also do this test based on user experiences. In addition, all tests should remain in the Pre-Production phase, meaning that they should be running in the background. This allows you to launch the experimented feature when you're satisfied.
✔ SEO & Others: 
Monitoring your website's SEO compatibility/status using a web monitoring tool is certainly beneficial. Certificates like SSL are an essential asset for your website, and they must be up to date. So when selecting your Web monitoring software, be sure to check features such as SEO and other certificate checks and renewals. Having domain renewal capability would be a huge help since most of the time domain renewal gets buried in other tasks.
✔ Real-user Test:
Multi-step forms like login, checkpoint, and business transactions like shopping cart, purchase, etc. A monitoring facility is a must in web monitoring software. The software should also provide the functionality to customize as the user requires.
This can ease your developer's workload a little bit and also can give you a pleasant experience of scripting for creativity.
✔ Page Performance & Benchmarking:
As a businessman, you always want to rank top at any price, right? For that, you always have to stay up to date with your competitors. This applies to your website too. Web Monitoring Software can provide a robust testing tool for Benchmarking.
However, benchmarking isn't the only point here, as you also have to evaluate the performance of your website. This way you can find faults and work on them before the problem gets more serious. All you have to do is ensure that the vendor provides this testing tool.
✔ Global Monitoring:
It means testing locations all over the world to check the website. This check defines the experience that your global users face around the world. While picking a web monitoring software for your small businesses please notice how much geographical coverage it provides with accuracy.
How to Pick the Best Web Monitoring Software for Small Businesses?
Up to this point, we have discussed the most suitable listing for the particular variety and price. The list could ramble on and on, but we kept it simple so you do not have to waste time or get lost in a pile of choices.
There are very few people in this world who are content with whatever they get on their first attempt and the rest strive for great success. So do you, aren't you?
If so, then let's learn some quick tricks to pick the best suitable web monitoring software for your small businesses.
✔ URL Monitoring
Most web monitoring software performs a ping-check on the website periodically with a specific interval. The website's check period is set to more or less 30 seconds to 10 minutes at a time. The interval period is either manually determined or decided by the vendor.
The shorter the interval, the more effective the action. Although 5-10 minutes is not that much longer than a manual ping check.
✔ Server and log monitoring
Whether you choose a website or a web application, both affect CPU+memory usage and server storage. And these effects affect the user experience on a large scale.
So, it's ideal to monitor the Server and Log from time to time. And a bonus point of this practice is that you can identify weak points of your website/setup and can resolve them early. Web monitoring software offers you this facility, so you must consider this fact.
✔ Synthetic & real user monitoring 
Synthetic and real user monitoring are completely different methods but when it comes to user satisfaction both of them work fine. Using both of them isn't mandatory but if you use one facility alone, you'll probably end up with a blind shot.
Web monitoring softwares do provide both of the facilities normally, but there's still some software that doesn't offer them both. So don't rush; take some time, do some research, and analyze the official feature listing (real-user review is the most reliable). Reconsider your criteria and find the most suitable vendor that meets all of them.
It would be a very effective advantage if you find both synthetic and real user monitoring data all in one dashboard. This way you can identify problems and respond quickly.
✔ Location-based testings
Have you ever noticed your WIFI signal varying on the same floor or apartment? The same way your website performs in different locations around the world. This causes your global visitors to struggle for a top-notch experience.
Web monitoring softwares do offer location-based tests for your websites and identify the specific parts of your websites that are working differently or causing some issue.
✔ Browser support:
If you have browsed the same website from different browsers like IE and Google Chrome, then you must have noticed some issues. This is a very common issue.
There are more or less 150 types of browsers in the world and it's not possible to browse the same website through all of them.
Here comes Web monitoring softwares to provide you with a real-time user experience. So always consider this while choosing a service.
✔ Best Alert feature:
Surely you don't work 24 hours a day, right? But you want to monitor your website performance and fix problems whenever they occur. Here come web monitoring softwares to do the work for you.
Sometimes software makes false alarms that force you to make unnecessary changes to your setup. If you can properly configure an alarm system throughout your website for different functions and sections, it would be an asset. So try to pick a service with multiple alert support.
✔ Price Quote
So far you have come for the sake of your business, and in business every single step, every single penny counts. Whatever service you choose has a lot to do with your business
So, it's very helpful to have a clear concept about the service you want and your budget. So before you make a decision consider every factor discussed in this section. Web monitoring software with the smallest or most features might be free for now but will soon cost you. Hence, act wisely.
N.B. There is no sign of perfection, even no narration to find the most suitable one with a blink. I tried to cover some key points that can help you find the web monitoring software that matches your criteria.
How Can I Get the Best Deal?
✔ Discount in volumes:
In general, package prices are categorized by month and year. Annual prices offer you discounts at a certain rate. And when the service becomes more extensive, the vendor provides a custom package at a custom rate with a discount.
So if your demand is high, then a custom order would be a wise choice. 
✔ Discount in advance annual payment:
In business, there is an unwritten custom, which is, "if you pay in full in advance, a discount is your reward". These transactions are typically large in quantity, and the discount facility helps to boost the business.
The same applies to web monitoring software too. By paying an annual fee in advance, a certain amount of discount is allotted to you, which can be a significant benefit for the business. 
✔ Organization-based discount:
Business to Customer (B2C) is not the only type of business. Business can be between vendors, companies, and organizations too. Business procedures and pricing of this kind are different.
If you are a business owner with multiple branches or sites you can ask for a B2B offer. You will get a lot of advantages such as discounts, customer support, training, etc. many benefits.
Conclusion
Web Monitoring Software for small businesses is never a waste if you can implement it properly and get the most out of it. A toolset like this gives you access to real-time information and the chance to improve your site and infrastructure.
You'll find a variety of web monitoring software available on the market. Not all of the software here is suitable for all types of clients. If a product meets your need, budget, and features at the best price, then opt for it without hesitation. Best wishes.